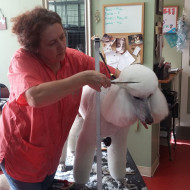 Prices of dogs depend on breed, type of hair cut and condition of pet.
Please call for a basic quote.
Because we want your pet to have the best experience possible,
we offer aromatherapy at no charge and used when needed.

There is an extra charge for de-matting $5-$30
Cat grooming starts at $75+ depending on brush out or full groom
– depends on condition
– if you want them bathed or not
– how naughty they might be
– (we recommend rescue remedy)
Cats Nail Trims by appointment only $10
Brush outs start at $30 and includes nail trim and ear cleaning
A full service dog grooming includes
Ear cleaning
Nail trimming
Bath n dry
Hair-cut and de-shedding
Anal glands by request only
Ala cart Services
Please request at time of check in
We can determine if something would be beneficial for your pet
Teeth brushing – $5
Medicated shampoos – $5-$10 depending on size
Deep conditioning – $5-$10
Flea and tick treatments – $30 and up
Services below (walk-ins welcome)
Anal Glands only – $15
Nail trims only – $15-$20 depending on if a biter
Ear cleaning only – $10-$20
– Depends on if we need to remove the hair in the ear canal
Brush out only – $10-$50
– Depends on how much hair and condition of coat
Brush and Blow out only – $20-$50
– Great for just removing dead hair, includes coat condition spray
All services by appointment only!